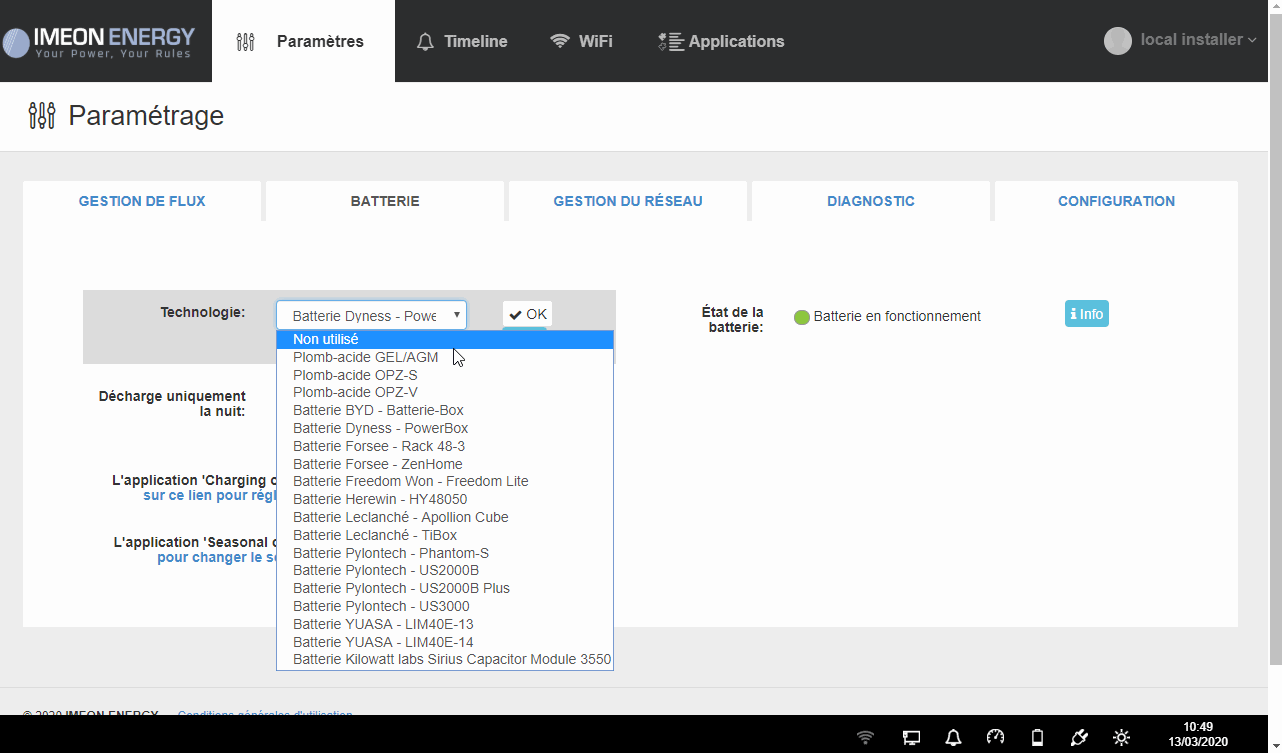 The application OS. ONE of Imeon Energy integrates a smart battery management system called Battery Manager.
Battery Manager automatically configures the solar battery associated with the inverter.
Specifically, when installing the battery so its connection to the inverter (power and communication), the installer can go into the settings of the OS. ONE and choose the batteries tab. He can then choose the brand and type of battery in the pre-filled list.
Attention, only the batteries compatible with the IMEON appear in this list. They have all been tested and validated by the technical departments of Imeon Energy and the solar battery manufacturer.
When the battery is turned on, Battery Manager automatically detects the battery and displays a green status.
The battery manager application, will then configure the IMEON with the parameters recommended by the manufacturer of the battery (charging voltage, charging current and discharge).
The installer can then configure the level of use of the solar battery according to the needs of the user. That is to say, to favor the consumption on the battery or the backup mode.
Battery Manager also optimizes the life of the batteries by giving the possibility to allow the battery discharge only in the evening and at night, ie when there is no longer any energy production coming from photovoltaic panels.
Coupled with the Charging Controller application, it is also possible to activate one or more complete charges of the battery by the grid.
Battery Manager is a smart application that for example detects if the battery connected to the IMEON is the one that is declared. It ensures that the parameters of the battery manufacturer are respected by the inverter in order to preserve the guarantee of the solar battery. In the event of non-production of the solar panels (lack of prolonged charge), it prevents the battery from falling to a critical level of charge which could damage it by taking on the grid. In this case in off-grid mode, it will turn off the inverter. Finally, to ensure total security, it communicates permanently with the BMS (battery management system) via the CAN port of the inverter.